The national AM-SAFE Program has been developed exclusively for members of the Australian Amusement, Leisure and Recreation Association (AALARA) – peak body for the Amusements Industry.
This Safety Program assesses physical safety and safety systems against specific safety benchmarks which must be met, in order to achieve the compliance level and subsequent National Accreditation.
Achievement of this safety standard assists Members to implement a high standard safety program and therefore obtain fair Insurance Premiums and customer satisfaction while keeping up to date with legislative changes.
The ongoing annual program requires:
site safety auditing, with a desktop audit every second year which canvasses some 45 criteria,
a comprehensive set of WHS policies and procedures, training tools and internal forms and checklists for adequate reporting and recording.
If you are an Amusement Operator and member of AALARA, you are entitled to participate with a discounted rate for these professional and industry specific services.
NEW! AM-SAFE Online – Safety Management Software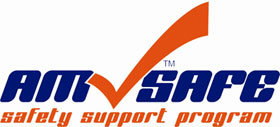 AM-SAFE ATPA Certification Audit
If you are a Trampoline Centre or Manufacturer, you can participate in the AM-SAFE ATPA Certification Program.
This requires an inspection of your Centre or products, to Audit for compliance against the new Trampoline Park Code of Practice, soon to be an Australian Standard. This Standard sets out safety requirements for equipment design and installation along with management of supervision, maintenance and other minimum operational standards.
This Audit is an annual requirement to maintain certification at a set fee for members of the (IATP) International Association of Trampoline Parks. For more info go to http://www.atpa.org.au/new-member-info/
Once certified you can become a member of the ATPA (Australian Trampoline Parks Association). Click here to read more.
To arrange or enquire about your ATPA AM-SAFE Certification Audit, please call us on 1800 AALARA (1800 225 272)