Outsource your safety role to a professional.
Annual WHS Plan
Our full managed program sets an annual plan for WHS implementation, monitoring and review, based on a gap analysis and legal requirements. It includes:
Annual staff training plan
Scheduled recurring inspections
Key actions/milestones to implement
Documentation as required
Incident management
Any WHS advice and assistance as required throughout the year (HelpDesk email/phone support).
We lead and drive your program as Safety Advisor, with professional advice and Professional Indemnity Insurance.
Payments are spread over equal monthly instalments over the fixed period, as quoted and agreed.
Whatever stage you are at, we can pick up and take forward to make sure you comply.
We can help you to swiftly achieve Best Practice Standards.
Ensure your Safety program is in place with continual improvement and ongoing monitoring and review as required.
WH&S Program Introduction & Maintenance
Audits
Safety training
Workplans, SOPs, SWMS/JSAs, Risk Assessments etc.
Work Procedures
WHS Policies
Reporting and recording forms, checklists, sign-offs
This service ensures physical, operational and management systems are in place in an ongoing manner.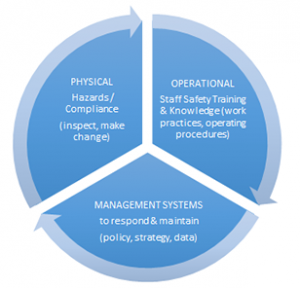 Talk to us today to get started and comply. References available on request.
Safety HelpDesk
HelpDesk (e-mail and phone advisory service)
Are you looking for professional assistance and advice on WHS matters by telephone or email whenever you need it? Simply ask our helpful staff about our popular 'HelpDesk' support service today.
Whether you have had an incident at your workplace and don't know what to do about it, or just need some quick, sound advice on how to best control a particular hazard or implement a procedure, our Consultants are available to take your call and steer you in the right direction for immediate peace of mind.
It is time to embrace the objectives of the WHS Legislation and to enhance your level of WHS compliance.
Any WHS matter, at any time during business hours – we are here to assist!